04 Dec

Orgasmic Leadership: Oh, The Places You'll Go

I just got back from Orlando after speaking at INDA, a terrific industry conference, made a stop at Montclair State University Feliciano Center for Entrepreneurship, and currently I am on the Acela on the way home from Cape Cod where I had the privilege of giving the keynote for Enterprising Women.
In my travels (by planes, trains and automobiles, I continue to reflect on the past few months – my first as a published author. And I just kept thinking of Dr. Seuss's classic, Oh The Places You'll Go.
"You're off to Great Places!
Today is your day!
Your mountain is waiting,
So… get on your way!"
-Dr. Seuss
There is something about the book that just seems to capture how I always felt as if The Good Doctor could simultaneously entertain, advise, instruct and inspire. That book and that quote was one I read to my children hundreds of times. I gave them copies for certain milestone occasions and throughout the years kept penning additional lines that I created to celebrate their unique talents and personal achievements.
The book and those sentiments really characterize the feelings I have had, and the experiences I have had the fortune of being a part of over the last few months. As I visited schools, attended conferences and had the privilege of sharing the stage with amazing entrepreneurs, authors and movers and shakers, I just kept hearing those familiar verses in my head.
Little by little, I got more comfortable – through each conversation and speaking engagement –with adding a new role to the many a I play in my life: mother, wife, friend, daughter, lover of pop culture, strategist, business builder, public speaker, lifelong learner… AND AUTHOR.
Dr. Seuss describes the wonder I feel sharing the podium with brilliant investors, authors, entrepreneurs and friends. He communicates the gratitude I feel having spirited conversations with rooms full of engaging professionals at all stages of their careers. His words characterize the joy that comes from the wonder of speaking with amazing people, being challenged with probing questions, sharing personal experiences, and always, always learning.
So in a personal tribute to Dr. Seuss and with joy, I add my own verses to celebrate the last few months:
Be it NJ, NY, California and more
From Cape Cod, Texas, the Florida shore
With colleagues, friends, women, and men
I experienced joy, and amazement again and again.
So wherever I go and whoever I meet
I will keep my eyes open and stay on my feet
To make sure that I experience from my toes to my head
The wonder of each day as I jump out of bed.
Hope to see you at an upcoming event or hear from you.
November 20: Women in the Loop on WNYM Radio (AM 970 The Answer).
November 27: #BrandYou Conference, New York City.
March 8, 2019: Inspiring Women Leaders Conference, Gainesville, FL.
March 11 & 12, 2019: SXSW Conference, Austin, TX.
Thank you for being on this journey with me.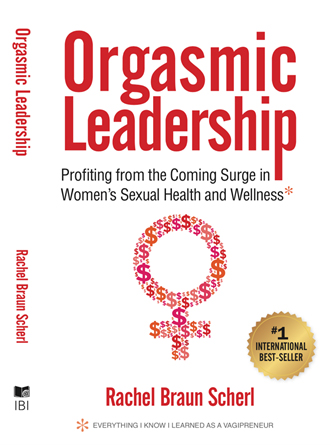 Orgasmic Leadership: Profiting from the Coming Surge in Women's Sexual Health and Wellness is available on:
Amazon: http://ow.ly/YPAj30jZMPL
Barnes & Noble: https://bit.ly/2J8uoDQ
iTunes: https://apple.co/2sA9WEC